Don't Walk Home Alone
Great horror from women writers
Conventional wisdom will tell you (if you listen, and why would you ever) that horror fiction is a man's game. Stephen King, Ramsey Campbell, Joe Hill, Peter Straub, H.P. Lovecraft, Clive Barker, Ray Bradbury, Dan Simmons – with relatively few exceptions, these are the names that dominate the genre. But women write horror too, of course, and while "horror by women" is not a genre in and of itself, scary books written by women writers often share common motifs and themes straight out of too many women's lives–gaslighting or being called crazy (more on this here, from Emily Asher-Perrin), body horror or loss of bodily control, violence at the hands of men, fear of motherhood, and so on–our mundane fears and trials made supernatural, fabulist, or manifest.
The subversive genius of it, though, is that these horror stories are often written in a way that makes these themes land regardless of the reader's gender. That should be the case in the rest of our day to day lives as well, obviously, but it isn't, and even in the literary landscape there are still so, so many men who dismiss books by women out of hand.
What I realized in the process of writing this edition is that the horror I love by women writers is, very often, a hybrid of genres with horror elements layered throughout. Some of that is a self-selection issue–I like what I like and gravitate towards more of it–but it got me thinking [*extremely Carrie Bradshaw voice* I couldn't help but wonder] about the ways in which women writers are expected to write something as broadly (heh) appealing as possible in order to break free of the meaningless catchall label of "women's fiction."
But that's for another newsletter. Read on for some of my favorite horror by women.
Quick note: The list of titles I wanted to include in this send quickly got away from me, so I've split it up into several posts and will send the second sometime in the future.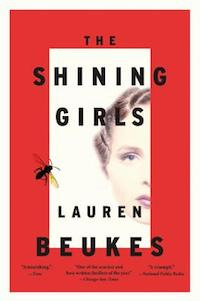 The Shining Girls by Lauren Beukes | Nightmare Scale: 7/10
You won't find it shelved under "horror," but like her most recent novel, Broken Monsters, Beukes' The Shining Girls is a beautiful, bizarre amalgam of horror, crime fiction, and social commentary. The plot driver here is Harper, a Depression-era vagrant who finds an abandoned house that lets him travel through time, and in other eras he tracks and kills women whose "shine" (verve, potential, etc) catches his eye. But after Kirby, one of his intended victims, survives his attack, she dedicates her life to tracking Harper down across the years.
Harper is a stalker, visiting his victims at various points in their lives before finally attacking them–and Kirby's dogged pursuit of him mirrors and inverts that pattern. He leaves souvenirs at the site of each murder–odds and ends in eras where they don't belong, and Kirby, along with the journalist who covered her attack, puts the pieces together, and the book speeds into a breakneck conclusion, involving at least one fight scene that takes place, quite literally, over multiple decades. It's a mind-bending treat.
CW for this book: very graphic violence against women (Harper's attempted murder of Kirby is absolutely harrowing), animal death
Helen Oyeyemi's work is the kind of writing that gets classified as literary fiction, so you won't find this in the genre section at the bookstore either, but it's a fairy tale, a ghost story, a haunted house novel (the only one I've ever seen where the house itself is one of the narrators), a story about families, and a meditation on hunger and consumption all in one.
White is for Witching tells the story of the Silver family, who run a bed and breakfast out of their house in Dover, a house which has agency and digs its claws into its female occupants, and Miranda Silver, the daughter, whose preoccupation with consumption-as-spirituality pervades the book and drives her closer and closer to the brink of sanity.
This is English gothic infused with Nigerian ghosts, scary in a way that creeps up on you–the narrative never hits you over the head with frightening images, but it gets into your head and makes you jump at shadows or movement in the mirror long after you put it down.
CW for this book: eating disorders
Killer mermaids! Killer mermaids!!!!!! Killer fucking mermaids!
This novel is technically a sequel to the novella Rolling in the Deep, but you don't need to start with the novella – ITDD gives sufficient backstory that it can be read on its own (which I did, and then went back and read the novella six months later). Years after a film crew working on a SyFy-style mockumentary about the existence of mermaids disappears without a trace at sea, leaving behind nothing but an abandoned ship and disturbing, mysterious footage, another expedition sets sail for the area where they were last seen–the waters directly over the Mariana Trench. On board is Tory, whose sister was one of those who disappeared. Tory is determined to find the truth about what happened to the lost crew, but she and her companions risk making the same mistakes all over again, especially as something rises from the deep.
The sirens themselves are terrifying and monstrous–more deep sea-dwelling Fiji mermaid, less Ariel. Grant incorporates elements of folklore about mermaids to clever and chilling effect, and the bombastic base-under-siege third act is thrilling. I can't recommend this one enough.
(Note: Mira Grant is the pen name for Seanan McGuire, who generally writes fantasy under her own name, and horror/dystopian fiction under this pseudonym.)
The Luminous Dead by Caitlin Starling | Nightmare Scale: 7.5/10
Pals… I fucking loved this book. It's newly on shelves as of last month and it's a debut sci-fi novel with a strong, claustrophobic dose of horror. On a backwater planet riddled with cave systems, Gyre, a novice caver, has lied her way into a job she's not really qualified for to earn the money she needs to get off-world. But instead of having a whole designated support team on the surface, she has Em, and Em isn't telling her what she needs to know. When Gyre starts seeing inexplicable things in the cave, and when supply caches start to go missing, she starts to suspect she's not alone, no matter what Em says.
This is a book that expertly walks the line between telling you Gyre is going crazy from weeks of isolation and telling you that she's actually not alone in the cave, and that tension is stretched out deliciously for most of the story, which is impressive–a lot of veteran authors can't sustain tension like that for more than a few chapters. And on top of that, we're stuck in Gyre's drysuit with her for 95% of the book–it's uncomfortably and strikingly intimate, and means that our perspective is limited to what Gyre can see on her helmet display, which only heightens the suspense and surreality.
CW for this book: graphic bodily injury, claustrophobia, some suicidal ideation
Further reading:
A few more things you might like…
Alyssa Wong: A virtuosically imaginative short fiction writer who you should really be watching. Start with "Hungry Daughters of Starving Mothers," which you can read for free here.

Cassandra Khaw: Cass Khaw is out here writing cosmic horror way better than Lovecraft ever did. I love her novella Hammers on Bone, and you can read her short story "These Deathless Bones" here.
A note about content warnings: I'm including them wherever I can remember something about a book that might necessitate them - unfortunately I can't reread every book I include in these newsletters before writing them, and Does The Dog Die's book section is not super robust–plus, like everyone, I have blind spots for some things that might bother others. So, though I'll try my best, unfortunately my content warnings won't be comprehensive. If you know of something I've missed for a particular book, please let me know and I'll update it on the newsletter website archive.
---
Final Girls: